Successful Resilience Finance Days conference calls for increased investments into climate resilience in Latin America and the Caribbean.
On Thursday May 25th and Friday May 26th, Scale for Resilience and its partners organized the first Resilience Finance Days, a two-day virtual conference focusing on "how to increase investments in resilience for the most vulnerable" by exploring the role of nature-based solutions (NbS), the use of digital tools, and the importance of building the business case for adaptation.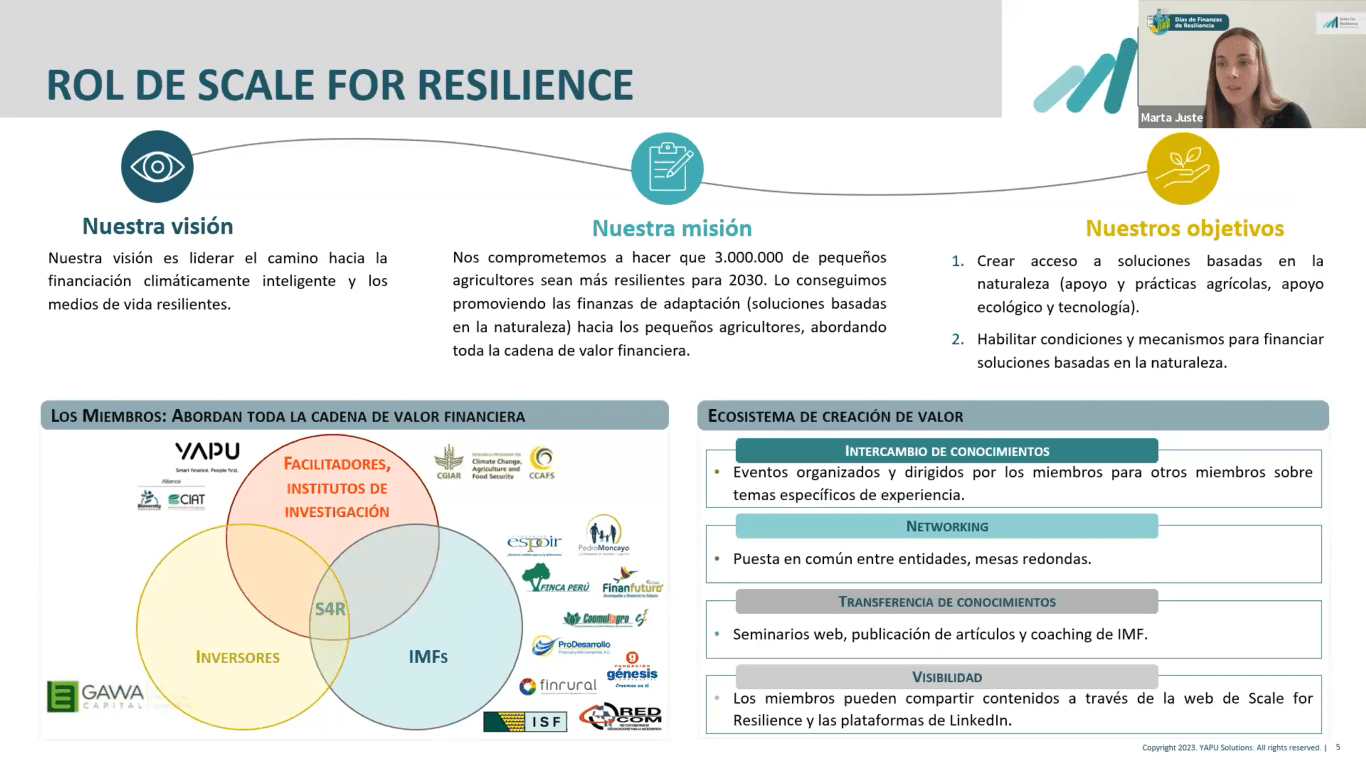 Marta Juste of GAWA Capital explain the mission of Scale for Resilience
More than 150 participants attended the virtual event consisting of 8 sessions delivered in English and Spanish. The conference sessions delved into crucial topics such as overcoming barriers to resilience investments, scalability of resilience for the most vulnerable populations, and dimensions of resilience. The event successfully highlighted the geographies of Latin America and the Caribbean, providing a structured platform for knowledge sharing and collaborative discussions on building resilience to climate change.
At the Latin American Day, several key points were highlighted by participants. Blanca Fiallos, from Cooperativa Ahorro y Crédito Pedro Moncayo, and Valeria Gelsi, from Oikocredit, highlighted the importance of financing climate resilience especially for smallholder farmers to mitigate climate challenges in agriculture, protecting and restoring ecosystems. Deisy Martinez from CIAT-CGIAR, presented the concept of climate-smart agriculture and its pillars: generating smart information, identifying appropriate practices and technologies, and adapting them to specific contexts.
Davide Forcella, JuST Institute, emphasized the importance of building alliances between different sectors, aligning goals and indicators, and using digital tools to reduce operational costs and improve access to information. Pablo Rucks of CABEI presented the "Dry Corridor" program, financed by the Green Climate Fund and implemented by the Central American Bank for Economic Integration. This program aims to strengthen adaptation to climate change in the Central American region and in the arid zones of the Dominican Republic. Pilot projects and ecosystem-based adaptation demonstrations will be implemented in seven watersheds within the Dry Corridor.
Pablo Rucks (CABEI) highlighting the geographical impact of the "Dry Corridor" program.
The sessions developed for the Caribbean Day counted with the participation of leading experts. Camila Fernández-Silver, from the UNFCCC high-level Climate Champions Team, and Luca Torre, from GAWA Capital, led a session on the need of increased resilience from the perspective of the climate champions and the new Kuali Fund as practical example of an resilience increasing financial mechanism. Tina Livingston, representing COK Sodality, shared her organization's highly positive and impactful experience in integrating climate risk management into their loan origination system. This has enabled them to effectively assess climate risks for their members and offer customized solutions.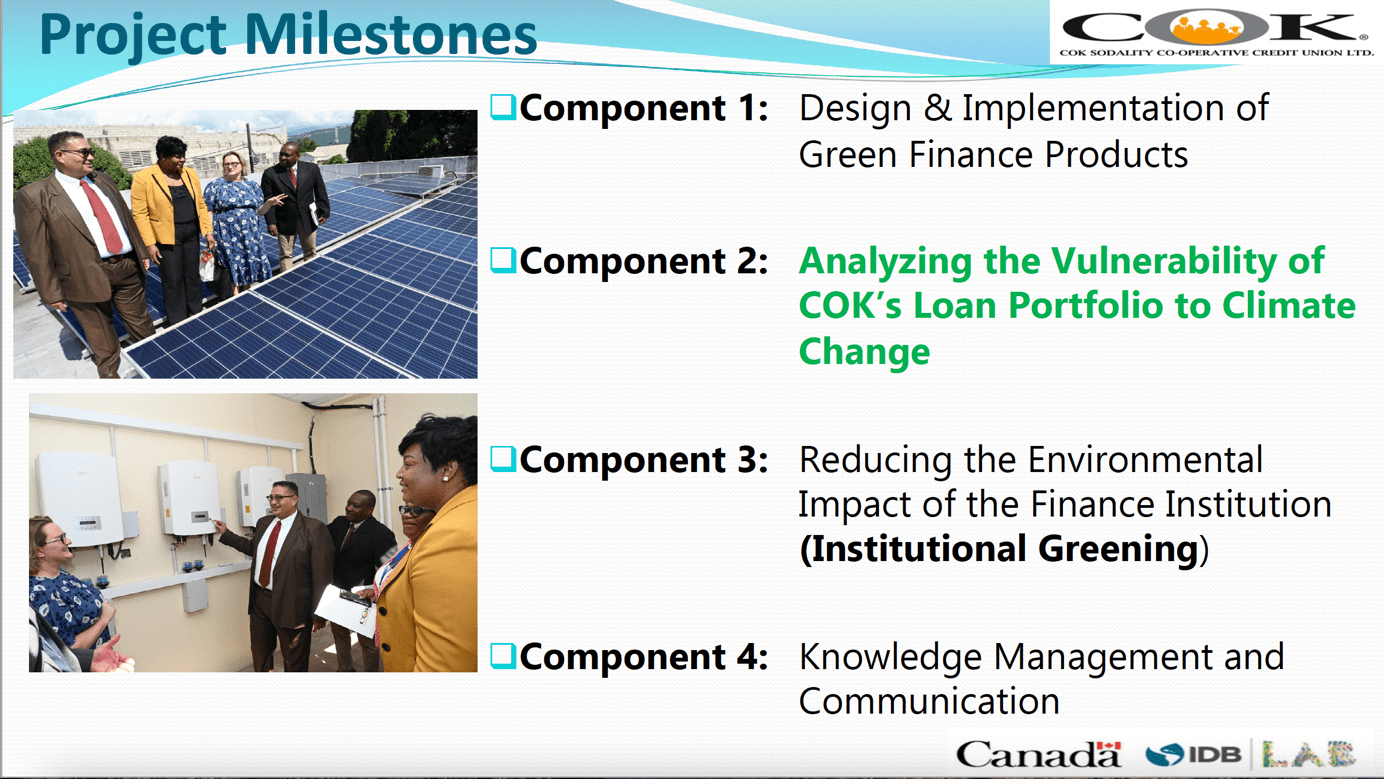 Tina Livingston of CoK Sodality explaining the milestones of a climate risk management system
Cara Foster of SPTF addressed the key steps in environmental performance management. She highlighted the importance of convincing financial institutions to work on environmental performance management. She also mentioned the SPI Online (Social Performance Indicators) tool as a way to assess the environmental performance of these institutions and stressed the need to develop a specific environmental strategy for each financial institution.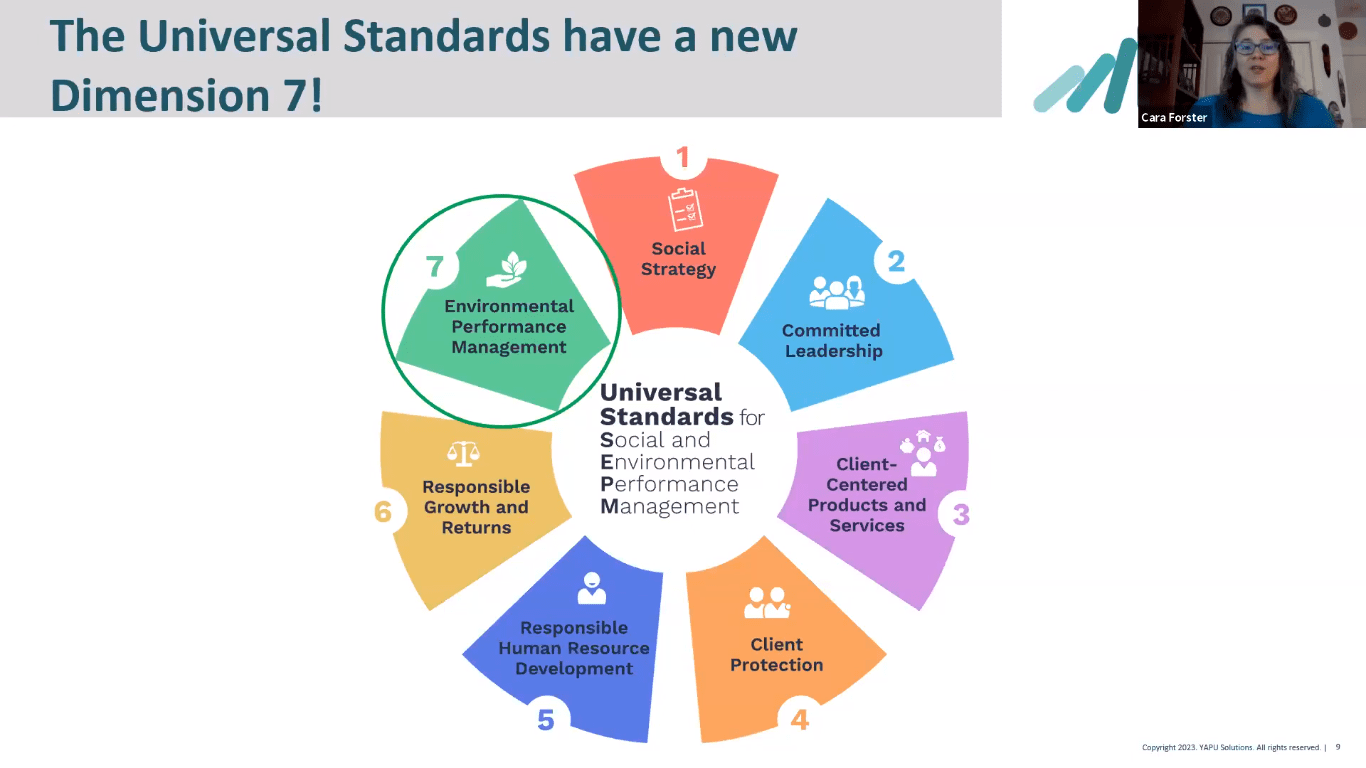 Cara Forster of SPTF elaborating the Dimension 7 of the Universal Standards.
In addition, a new partnership between Eco Micro, IDB Lab flagship climate change program, and Scale for Resilience was announced. This collaboration aims to expand the network and strengthen our collective efforts to build resilience. The Resilience Financing Conference was a resounding success that brought together experts and key stakeholders to address the challenges of climate finance and promote sustainable solutions.
This virtual conference laid the groundwork for greater collaboration and a joint approach to resilience financing in Latin America and the Caribbean, providing new opportunities to build a more resilient future in the face of climate change. Going forward, we intend to hold these resilience financing days annually, which will serve as a knowledge hub on how to increase resilience financing for the most vulnerable. By establishing this event on an ongoing basis, we hope to foster continued dialogue and knowledge sharing. You can access all presentations used as well as the recordings here: Resilience Finance Days, 2023.