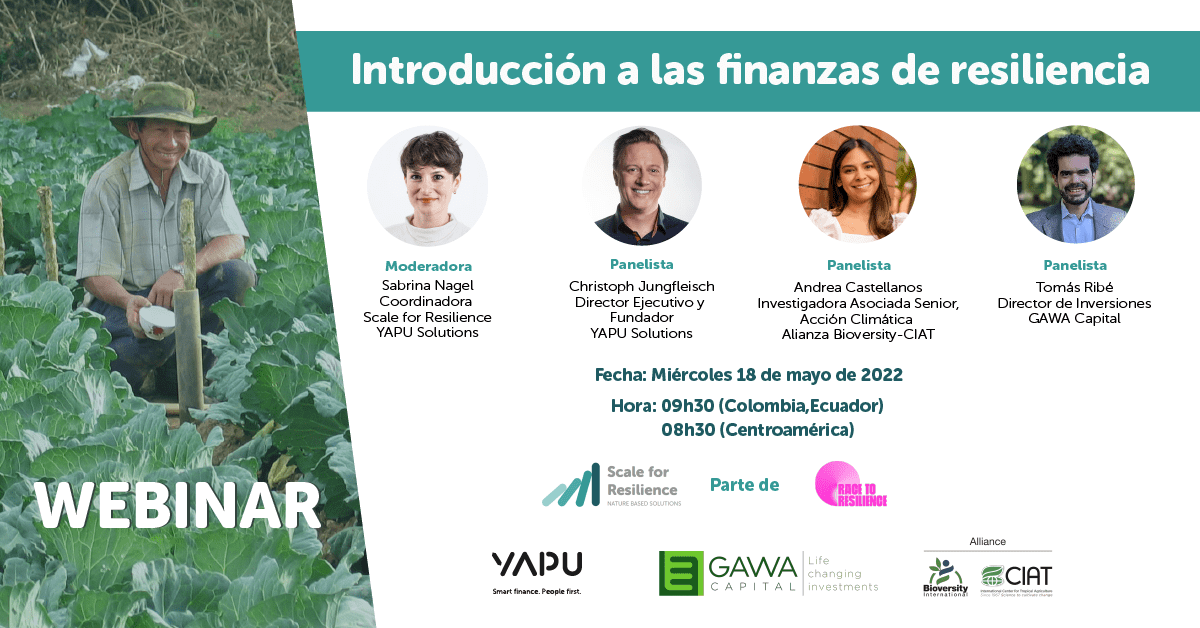 We are happy to announce the launch of the first Scale for Resilience webinar series.
A total of six webinars will give an insight into concrete actions, concepts, and examples around applied resilience finance for the most vulnerable. The initiators of the initiative and its members will share experiences and insights on how financial inclusion for adaptation can work. The topics will range from implementing a green loan product to the perspective of impact investors. Most webinars will be open to the public and free of charge.
The objective is to underline the importance of financing climate adaptation and resilience of the most vulnerable populations by channeling resources locally and provide tangible insights on how to put it into action.
Tentative schedule:
Date
Time
Presenter
Topic
18 de mayo
9:30 am Ecuador

4:30 pm CET

YAPU / GAWA / CIAT
Introducción a las finanzas de resiliencia
26 de mayo
9:30 am Ecuador

4:30 pm CET

GAWA Capital
¿Qué buscan los inversores de impacto?
9 de junio
9:30 am Ecuador

4:30 pm CET

Fundación ESPOIR

(Ecuador)

Implementar un producto verde: oportunidades y desafíos
7 de julio
9:30 am Ecuador

4:30 pm CET

ASEI

(El Salvador)

Impacto del cambio climático, mejores prácticas y 3 metodologías para evaluar los préstamos agrícolas
21 de Julio
9:30 am Ecuador

4:30 pm CET

YAPU Solutions
Soluciones digitales para las IMFs
11 de agosto
9:30 am Ecuador

4:30 pm CET

PRODESAROLLO

(Mexico)

Combinar la resiliencia financiera para las mujeres con la medición de la huella de carbono
25 de agosto
9:30 am Ecuador

4:30 pm CET

CIAT/ CGIAR
Impacto de los riesgos climáticos en las carteras de las IMFs
Scale for Resilience, initiated by YAPU Solutions, GAWA Capital, and CIAT/CGIAR, sets as objectives for 2030 to create access to finance for Nature-based Solutions (NbS) for smallholder farmers aiming to reach at least 100 MFIs with the goal to make 3 million smallholder farmers more resilient and disburse USD 5 billion for the cause. It is an important and ambitious target that requires the transformation of the entire financial value chain to help address physical, cultural, and digital access gaps to enable climate adaptation for the most vulnerable.
The initiative focuses on enabling the financing of smallholder farmers, which produce one third of the world's food but are the ones heavily affected by climate change, even contributing the least to it. The goal is to increase their productivity and resilience through the adoption of Nature-based Solutions financed by locally active Banks, MFIs and cooperatives.