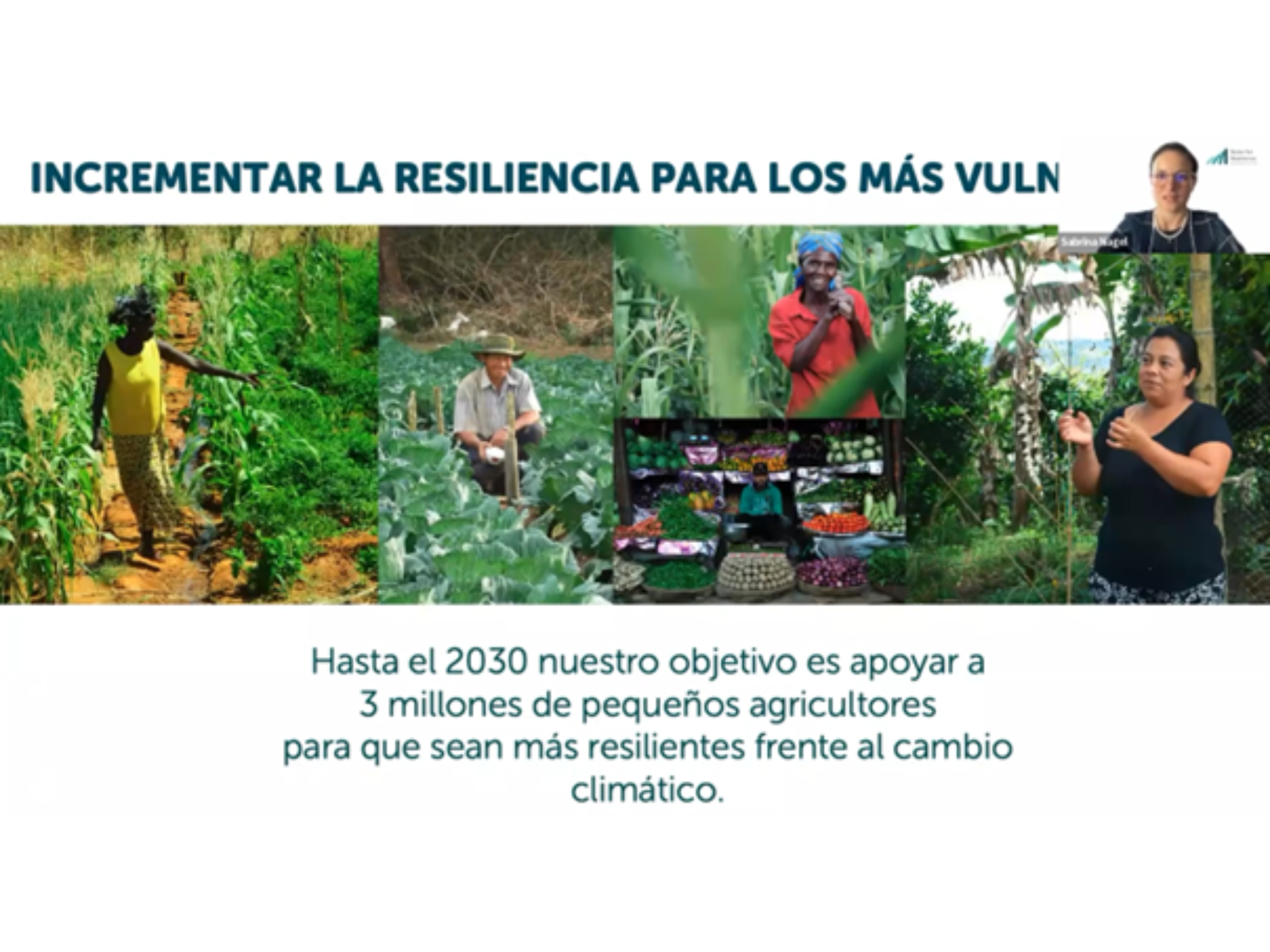 Completed Scale for Resilience Webinars
We are pleased to have completed the series of free webinars in Spanish of Scale for Resilience. In this series, we have had member institutions and great guests who shared information on financial inclusion for resilience of vulnerable sectors and experiences in the implementation of digital tools and methodologies within financial institutions.
Between May and August we held a total of 7 webinars open to the public, which were attended by almost 300 attendees. In these spaces the institutions developed interesting topics such as:
"Introduction to Resilience Finance"- May 18, 2022.
This webinar kicked off the series and provided the points to be developed around this initiative, finance and resilience. In this session, the initiators of Scale for Resilience provided the overview of what resilience finance means in their field.
"Practical steps for working with impact investors on resilience issues"- May 26, 2022.
Luca Torre (GAWA Capital), Valeria Gelsi (Oikocredit) and Ángel Verástegui (ResponsAbility) discussed and shared the key analytical factors that climate-oriented impact investors with climate objectives consider when investing in microfinance institutions.
"Implementing a green product: opportunities and challenges" – June 09, 2022.
The product manager and head of Fundación ESPOIR Javier Domínguez shared the experience of the Microfinance Institution in the process it has had from inception to now in introducing and implementing a green loan product.
"Lessons learned in the application and implementation of specialized lending methodologies for the low-income sector" – July 07, 2022.
ASEI's CEO and founder Ricardo Segovia and product manager Carlos Moreno discussed lessons learned in lending methodologies for green loans to the low-income agricultural sector.
"Digital Solutions for MFIs" – July 20, 2022
YAPU's founding CEO, Christoph Jungfleisch, and Mario Ernst, a renowned expert in digital transformation shared insights on digital tools and the potential benefits they offer to inclusive Microfinance Institutions in Latin America.
"Combining financial resilience for women with carbon footprint measurement" – August 11, 2022.
ProDesarrollo Mexico, Finanzas y Microempresa AC and partner Crediclub spoke on the topic of building resilience for women in Mexico through financial inclusion and the extensive SARAS reporting project.
"Scientific information in the comprehensive design of financial services for farmers" – August 25, 2022.
Andrea Castellanos and Carlos Navarro (CIAT) together with Jaime Osorio (YAPU Solutions) and  Blanca Fiallos (COAC Pedro Moncayo) presented the webinar on the use of scientific data for financial products, focusing on how climate science information products are used to support the design and decision-making processes of financial services for smallholder farmers in Latin America.
We would like to thank all attendees and institutions that made this program a success. We will continue on our path with the goal of increasing the productivity and resilience of smallholder farmers through the adoption of nature-based solutions financed by local banks, MFIs and cooperatives.
You can watch all recordings of the webinars by following this link: https://www.scaleforresilience.global/knowledge/